STAR WARS AND PORSCHE DESIGN TEAMS COLLABORATE ON NEW STARSHIP – GENTLE GIANT STUDIOS PRODUCES LARGE SCALE MODEL FOR RISE OF SKYWALKER PREMIERE.
This is the Tri-Wing S-91x Pegasus Starfighter.
Spanning two months, the design process was carried out by the amazing design team at Lucasfilm in San Francisco and the Porsche team in Weissach. Once they settled on a final design, the locked concepts were passed to Gentle Giant Studios.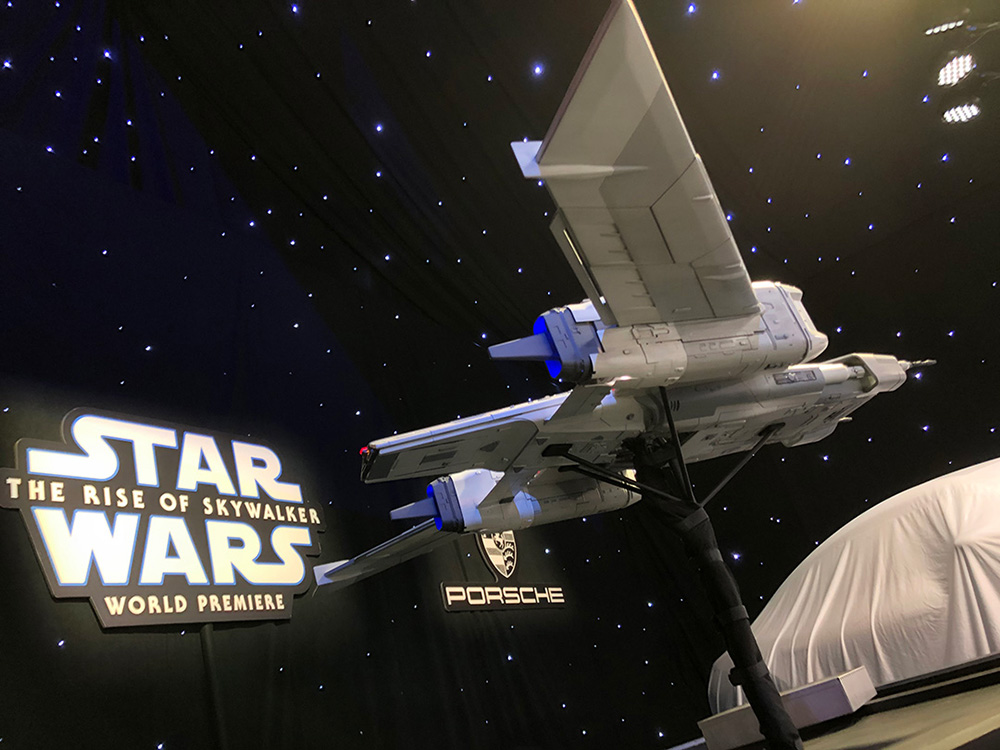 The process of converting the design into engineered components that would work together, making allowances for the wire-paths that would power the internal lighting took an additional six weeks. Once the 3D data was ready, elements were printed on large format SLA 3D Printers and grown on-site at Gentle Giant. Cleaning up those parts by hand set them up for the GGS Paint Team who converted the rendered images into an executable paint scheme.
With the help of our friends at LITEGEAR in Burbank, CA we implanted 12 small but bright individually addressed lighting instruments into the ship before it was sealed up for final paint touches. Crating followed, and the GG Install team brought the final model to the under-construction location in Hollywood, CA that would be the venue for the world premiere of The Rise of Skywalker.
"This collaboration is an amazing opportunity to merge the design aesthetics of Porsche and Star Wars. I found it to be creatively challenging and extremely inspiring," says Doug Chiang, Vice President and Executive Creative Director for Lucasfilm. "It is thrilling to infuse Star Wars with Porsche styling to create an iconic new spaceship that could exist both on Earth or in the cinematic universe."
For Porsche fans, this ship embodies many of the design elements that define the aesthetic made famous by the storied German Automaker. From the front air inlets to the four-point daytime running lights, this ship even has the distinctive light bar which is a hallmark of the brand.
The interior is fully detailed, with room for the pilot and two passengers. Screens in the cockpit are illuminated, as is the realistic R2 Unit placed where you would expect, right behind the cockpit reminiscent of Luke Skywalker's X-Wing fighter in the original Star Wars.
Gentle Giant is proud to have created three of these Pegasus models, two at the 5.5 foot wingspan, and one with an 11 foot wingspan. We compliment Lucasfilm and Porsche on this design triumph, and can't wait to see if this ship pops up in future Star Wars offerings!